Hello readers. My name's Jason and today I plan on sharing my what I believe are the best transfers Chelsea can make for the next season. With the current season drawing to a close, the Blues currently sit in 4th place and are good value for a Champions League spot come the end of the season (I really hope I don't regret saying this) in Lampard's first season in charge. Though it's considered a success by many, Lampard is clearly aiming for greater heights as he has brought in 2 marquee signings in Hakim Ziyech and Timo Werner, and is still prowling the transfer market. Especially in these times of the COVID-19 pandemic, Frank Lampard is really looking to strengthen the squad in preparation for next season. In this post, I will talk about potential areas Chelsea should look to invest in, who to buy, and finally my predicted 2020/2021 squad.
Problem Positions
Chelsea recorded the highest net profit from the last 2 transfer windows after the transfer ban, making up to €160 million according to the CIES Football Observatory. That is especially helpful considering that teams are not making a lot of money due to the pandemic. The transfer ban has actually placed Chelsea in a position of spending power for the upcoming window, and Chelsea would do good to spend it wisely. With that in mind, these are the positions I think Chelsea need to strengthen in:
Left Back
This comes as no surprise for any Chelsea fan. Or any Premier League fan for that matter. If you don't know why the left back is such an issue, you can treat yourself by watching the highlights of Chelsea's recent loss to relegation candidates West Ham. While Emerson is average going forward as well as staying back, Alonso is more extreme, almost being a revelation going forward but incredibly suspect recovering and defending in general. While an argument could be made for Alonso as he was won us valuable points this season, the truth is that he is not a reliable fullback for Lampard's ambitions. And anyways, Conte's Inter is looking to sign Emerson, so this is the perfect time to sign a fullback. When researching for fullbacks, I looked for those capable of both attacking and defending, with the pace and stamina to do both in equal measure. I also placed slightly more emphasis in the defensive side of the game, as we already have Alosno should we need an attacking outlet. Ben Chilwell is the name that pops up most often here, but I'm going to take the unpopular stand and say that for the expected price, he isn't worth it. Here's why.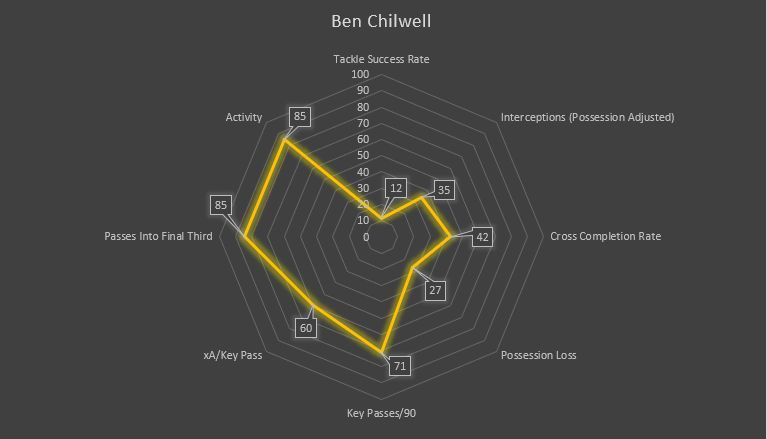 This chart compares Chilwell's performance this season to other fullbacks below the age of 27 who have played a certain number of games for their side. The numbers at the edge of the yellow outline show his percentile rank compared to others in that metric. For example, Chilwells's percentile rank in key passes per 90 is 71, so he is better than 71% of fullbacks at key passes per 90. Now, something should be immediately clear here: his tackle success rate places him at the 12th percentile. That's practically another Alonso, and we really do not need that. He also ranks poorly in possession loss and interceptions, the defensive stats we should be looking at. Simply put, he isn't worth it.
In that case, who is my suggested left back replacement? That honour goes to former La Masia talent Alex Grimaldo. Grimaldo should be a well known name by now, as he has been scouted by the biggest clubs in world football for a while now. It's very easy to see why too. First, his defensive work is sound, winning 67% of duels (Wilfred Ndidi standard) compared to Alonso's 20%. Second, his creative attacking output is almost at an Andy Robertson's level in the Liga NOS and he is only 24. He will also be a way cheaper option for Lampard's side, so taking him over Chilwell should be a no-brainer. If we can't get him, though, my backup plan would be another Spaniard in Aaron Martin. He plays at a similar level to Grimaldo but not quite as well all things considered.
Centre Back
Chelsea have played a good number of centre backs, with Rudiger, Christensen, Tomori and Zouma all stepping up when necessary. While they all have their strengths and weaknesses and can definitely play great football on their good days, none of them are elite defenders and leaders like John Terry was or like van Dijk and Laporte are. They are all prone to errors and lapses in judgement, and none of them can command the back line like Terry and Cahill were before them. I believe that to compete the way Lampard expects Chelsea to, they will need a good centre back who can do everything Lampard may ask him to do without fail.
Therefore, my criteria for Chelsea's next centre back is an established defender that is composed on the ball, with a preference for those able to command those around him. My immediate thoughts go to another defender in blue by the name of Kalidou Koulibaly. On the surface, he is probably the definition of Lampard's perfect defender. An already established player, Koulibaly combines pace, power, leadership and composure to create one of the best centre backs in world football. He is also mentally capable of performing at the highest level, having played in the Champions League multiple times. He is also a natural leader and is the Senegalese national team's captain. Pretty much perfect. At least, until you do some digging. At 29 years of age, he isn't the type of player Chelsea tends to sign and offers very little resale value. His valuation of £90 million pounds doesn't do any favours either. And in the 2019/2020 season, Koulibaly has missed many games because of injury, an unpleasant sign for such an old player. Unfortunately, few others seem to fit the bill while also offering Chelsea the leadership it needs: Upamecano, while very good, is still young and learning. So is Ake. Rice showed some signs of leadership when wearing the armband versus Chelsea. But, again, is still young and learning. Even Thiago Silva crossed my mind as he is out of contract in the summer, a natural leader with a lot of experience, and he still played up to 25 games for PSG this season. In the end, I could only surely decide on 1 other option besides Koulibaly: Lewis Dunk. Before you close this site, hear me out. Though he is a significant step down, he is still a good defender (consistently better than any other member of Chelsea's defence) who has proven himself n the Premier League. At 28 years of age he is at his peak, and as the Brighton captain, his leadership skills are obvious. To be honest, I don't see this as Chelsea's most likely signing, and maybe Koulibaly or Rice are better options, but in my opinion the lesser price tag and age makes Lewis Dunk my pick as Chelsea's centre back signing for the long run.
Goalkeeper
If Willy Caballero can bench you for a few games because of your poor form, you shouldn't be the starting keeper at a top 6 team in the Premier League. Or the top 10. Really, unless you are a relegation-threatened team to be honest, and Kepa has played worse than any relegation threatened team's goalkeeper this season. Actually, statistically, he is the worst keeper in the league, and by a margin. His save percentage is below 60%, and for comparison, Aaron Ramsdale's and Tim Krul's save percentage is 10% more than that. He has also conceded more goals than expected from shots faced than any other goalkeeper in the Premier League, directly allowing 7 more goals than expected this season according to some xG models. So, Kepa needs replacing. Though this is a less likely transfer than others due to the sheer amount of money spent on Kepa, there are rumours surfacing of a possible Kepa loan move to Valencia, which may set a bigger transfer in the works as we have seen with Alvaro Morata.
As such, I looked for a goalkeeper comfortable with the ball at his feet, brave enough to come out and thwart through balls behind the lines, and all without forfeiting the traditional goalkeeper work. After my research, my first choice signing is Andre Onana, and for many reasons. First, he is a good goalkeeper. His save percentage of around 85% is great, almost rivalling Alisson's. He has also directly prevented 2.5 goals compared to the quality of shots faced, which is better than Courtois and Neuer performed in that aspect. He is also very aggressive, and is capable to come off his line to deal with crosses and through balls. Comfortable on his feet and with his hands too, he is a great distributor, and the fact that he isn't renewing his contract AND has an agreement in place with the Ajax board regarding transfers, he will probably come at a relatively cheap price of about £25 million. In short, Onana ticked all the boxes. I also thought of Dean Henderson, but I really doubt United will allow such a talent to leave the club, for £30 million nevertheless. But, if they do, he is another viable option.
How Will Chelsea Lineup?
Next season, I see Lampard being as tactically flexible as he was this season, with many variations provided to him from the players he has and the players he has signed. As such, I will leave you with the first formation I could come up with for this set of players.
In this formation, I expect Werner to play on the left wing and off a target man in Tammy Abraham, as he so liked doing at Leipzig with either Poulsen or Schick playing in the striker position. Ziyech will be a creative presence on the wings, capable of cutting in and creating chances like former Chelsea man Eden Hazard was. Mount is a capable attacking midfielder and the excellence that the double pivot of Kante and Kovacic have demonstrated this season will allow Mount to push upwards and do his pressing higher up the pitch. Grimaldo and James would also push higher up to give the team width and create more chances.
That's my take on the transfers Chelsea should be making this window. What do you think? Leave your answers in the comments below. I'm probably going to do this for the other top 6 clubs and see where it goes. See you on my next post.
Processing…
Success! You're on the list.
Whoops! There was an error and we couldn't process your subscription. Please reload the page and try again.